The time-lapse trial cameras will take pictures of fungicide treated and untreated plots of winter wheat KWS Santiago at sites in Callow, Herefordshire and Great Chishill, Cambridgeshire every 15 minutes through the season.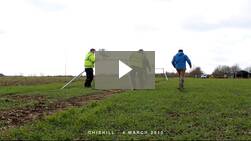 During the 2014 season cameras were positioned in both treated and untreated plots of Santiago at the Callow site from the T0 stage. The site was picked due to its particularly high levels of septoria.
Cameras will be focused on part of the plot at a fixed height, with crops growing towards them. The resolution of the camera enables viewers to see a plot view as well as leaf detail.
This season cameras were set up at the Callow site on March 3, and at Great Chishill on March 4.
Strutt and Parker agronomist Jock Willmott, who advises growers in Cambridgeshire, says: "This is big data and it is going to really help with the future management of crops."
Farmers Guardian will be reporting regular updates from both sites at key timings through the season.