Situated near Llangedwyn, north Powys, the 223-hectare (550-acre) upland farm supports a herd of 200 Montbeliarde dairy cows. The system is primarily forage- and grazing-based, so regular use of the platemeter to manage pasture offers the chance to boost performance.
Bryn Evans sees the platemeter as an important tool to keep up with developments across the industry. He says: "Nowadays, all the literature and technical information talks about kilograms of dry matter per hectare [kg DM/ha], so the platemeter will improve our understanding and application of advice."
"My son Sion is also about to start college, so I think it will help him when he is learning about grazing and feeding cows, and then hopefully he can bring what he has learnt back onto the farm."
The farm has a 7,000-litre production target which it tries to hit mainly through home-grown grass. Each summer, there are three or four cuts of silage which aim for quality over quantity to enhance animal performance. To meet these targets, the farm has recently undertaken a significant reseeding programme.
Mr Evans says: "The difference between the old and new pasture is clear to see, the reseeds recover much faster – the platemeter will help us when we choose where to reseed better and compare how much more it produces."
Wholecrop spring barley or swedes are used as the entry for any reseeds and make a useful contribution to forage production.
Mr Evans won the platemeter in a competition organised by Wynnstay Farmers and supported by GrowHow and he was given an introduction on how to use the new piece of kit from GrowHow's Hefin Llwyd.
Top tips on how to use a plate meter from GrowHow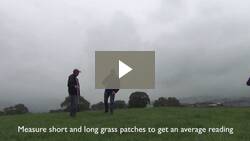 Mr Llwyd says: "A platemeter tells
you the amount of grass available in a field – it works it out in kg DM/ha, but you can use it to measure large or small areas.
"It is a very useful tool because you know how much grass you have and you can work out how quickly it is growing so it doesn't only help you plan grazing but things like fertiliser and reseeding as well."
"The basic rule is you want to start grazing at about 2,800–3,000kg DM/ha and bring animals out at about 1,500. If you go much below 1,500 then you will end up with much slower regrowth as the grass is recovering using roots rather than photosynthesis."
According to Mr Llwyd, when using the platemeter there are a few basic rules you need to follow to get a representative sample. He says: "Walk the field in a W pattern and make sure you to take a mixture of longer and shorter patches of grass which reflect the picture across the field."